New Beginnings Agape Christian Center!
"NOW UNTO HIM THAT IS ABLE TO DO EXCEEDINGLY ABUNDANTLY ABOVE ALL THAT WE ASK OR THINK, ACCORDING TO THE POWER THAT
WORKETH IN US"
Our prayer is that you will be blessed and strengthened by the power of Jesus, and that you will live a life of abundance in fellowship, joy and liberty.
New Beginnings Agape Christian Center (NBACC) church is here for you.
It is not just a church; it is a fellowship of believers coming together to declare the glory of the Lord, and to celebrate Jesus as King.
We study the Word, practice what we learn, and in the process grow together.
May God richly bless you!
May the Lord bless you and keep you!

T
he

Paul M. McGuire Family Health Center is a special program of the IBTCDC. The center's mission is to use a voluntary professional staff to provide limited medical care to the uninsured and working poor. The Center is located in The Rug Mill at 40 Jackson Street, Freehold, NJ 07728.
We serve all who are without health insurance and our office hours are 6:00-9:00PM each Tuesday and Thursday by appointment only. Please call to schedule your appointment today at (732) 409-013
3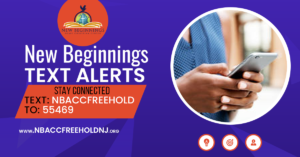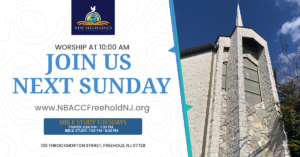 OUR WEEKLY SERVICE CAN BE VIEWED BY CLICKING THE LINK BELOW:
*************************
Pastor McGuire has appointed Brothers Vincent Corrington and William Broughton as Walking Deacons to join Deacon Rona Henderson and Deacon Bruce Stallworth.